When you live in or near a big city, it's so easy to take it for granted. I realised the other day how long it's been since I had a day out in Manchester, just exploring new spots and enjoying my day. For those of you planning a staycation trip, here are some new spots I discovered for a day out in Manchester, in collaboration with Hotels.com and their serviced apartments Manchester.
Coffee Shops
First, let's talk coffee. One of my favourite things about Manchester is the abundance of incredible independent coffee spots. There is nothing better than heading into town to catch up with a friend over a drink. On this day, I jokingly referred to our usual outing as 'cafe-hopping'. No bar hopping here haha! Just endless cups of tea, coffee and perhaps a slice of cake. 😉
We ventured around two of my favourite areas in town, that I'd recommend to anyone visiting! Ancoats and the Northern Quarter. If you want to relax, catch up with a friend or have some great food/drinks, you can't go wrong with either of these areas.
Soul Coffee on Great Ancoats Street is such a cool vibe! Great coffee and I'll have to come back for the gelato in Summertime! The cake selection was also top-notch – what more could you want?!
Further down into Ancoats you'll find Ancoats Coffee Co., well worth the 10 minutes or so walk from wherever you're staying. This is such a hidden gem, and I have a feeling it's going to get busier and busier. If you're a real coffee connoisseur, they roast their own and you can taste the difference. I loved how spacious this spot was, and think it'd be perfect to bring your laptop or work to if you need to crack on and get productive. We definitely didn't get any work done though! 😉🗣
Cocktail Beer Ramen & Bun
If your cafe-hopping has worked up an appetite, then in comes my next must-visit area in Manchester. The Northern Quarter. In my opinion, the best place to grab quick and delicious food from any cuisine you fancy. On this day, we were in the mood for some Asian eats, so headed to Cocktail Beer Ramen & Bun on Oldham Street. If you're a ramen lover, it doesn't get much better than this. Don't forget the kimchi on the side – yum.
Shopping
Last but absolutely not least, shopping. As I know you'll probably want to do more with your visit than just eat and drink coffee (although I could easily – and do – spend a whole day in town doing nothing but!) The Northern Quarter has always been known for its wonderful creative community and artistry. So there are dozens of shops you can peruse, from home bits to gifts or vintage clothes. We chose to pop into Form Lifestyle Store.
Tucked away on Bradley Street, this small and sweet home and lifestyle boutique is well worth a visit. For eco-friendly swaps, hand-crafted unique home decor and all things slow, conscious living, this is the place to be! After much deliberation, I went for some delicious incense and a lovely soy candle, but I'll be back for the beautiful handmade jewellery and reusable nail polish remover pads (genius!)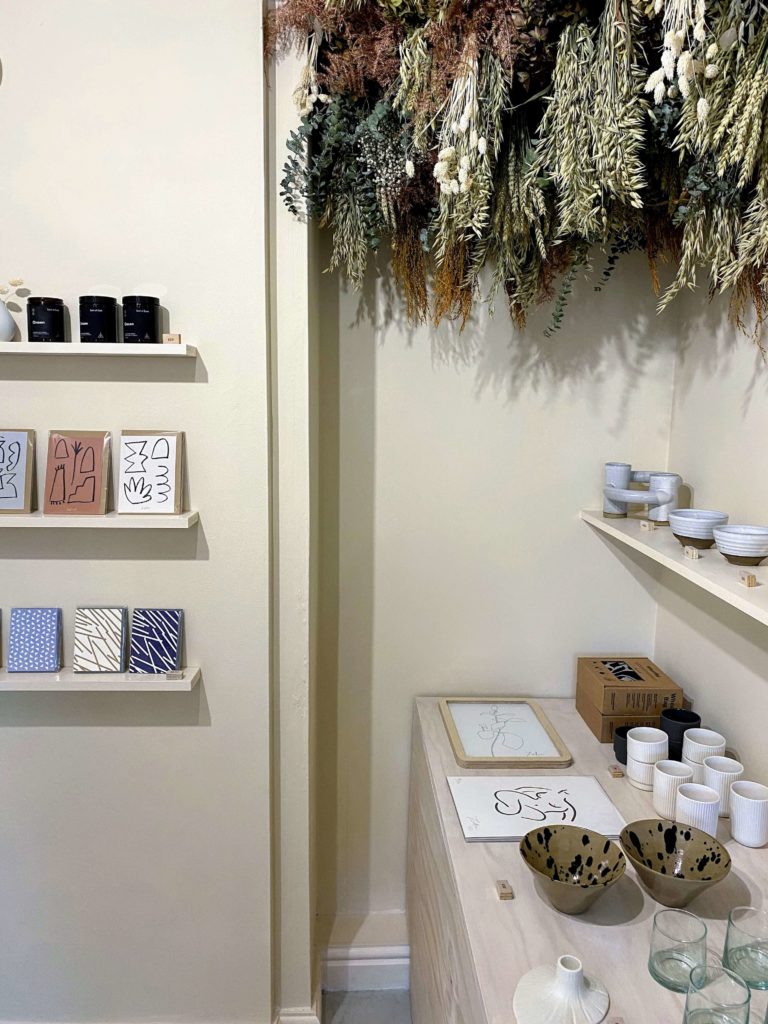 Where would you spend a day out in Manchester? Any other places I need to visit next?
The spending money on this day was gifted by Hotels.com but all views are my own